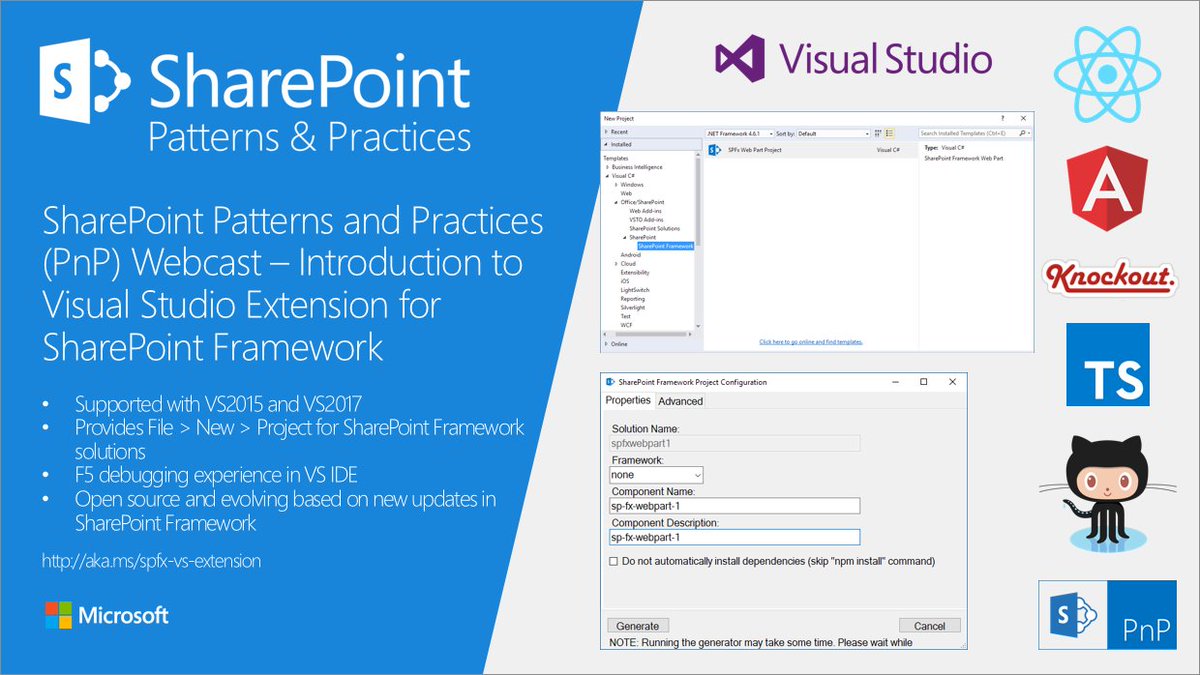 Interested in extending Visual Studio for SharePoint development?
In this PnP Webcast, we concentrate on introducing new community driven Visual Studio extension for SharePoint Framework solutions. The Visual Studio Extension for SharePoint Framework wraps the command-line UI of the Microsoft Yeoman Generator (yo @microsoft/sharepoint) into a familiar Windows Forms experience, executes the generator project scaffolding behind the scenes and creates a Visual Studio project that includes all the necessary files for a complete web part project. Also included is a web part item template for adding new web parts to an existing Framework project. Developers can launch the Workbench local sandbox environment to test their web parts by pressing F5 or by binding to the Gulp Serve event in the Task Runner Explorer.

For developers who wish to dive deeper and learn more about the new web development toolchain used by the SharePoint Framework, the Advanced mode provides full access to the Yeoman generator command parameters and an optional cmd.exe window to view the generator tasks in real time. Visual Studio extension for SharePoint Framework projects is a community driven open source initiative under the SharePoint PnP "umbrella". This work is done together with SharePoint engineering to ensure that extension is kept up to date with all the upcoming changes within the SharePoint Framework. 
Read the agenda, watch the video & download the presentation here: